Nothing beats a beautiful, self-assured smile. If you find yourself covering your mouth when you talk or laugh, or keeping your lips together when you smile for photographs, you might benefit from cosmetic dental treatment. Read on to learn more about common cosmetic dentistry options available at Sunshine Dental Associates.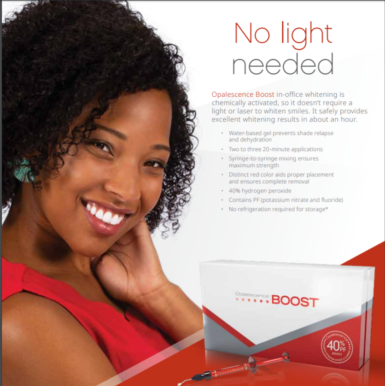 Crowns- We offer all-porcelain and zirconium crowns, which provide dental restorations with highly aesthetic results. These materials closely mimic natural tooth enamel by allowing light to pass through them to create the natural transparency of real teeth. They also are durable options that closely resemble the strength of natural teeth. Crowns can be matched to the shade of your real teeth, and they are stain-resistant. They won't discolor over time.
Tooth-colored fillings- Don't be afraid to laugh heartily when you have tooth-colored fillings, because people will only notice your smile and not your dental work. The tooth-colored materials we use can be matched to your teeth and they provide a long-lasting barrier to help prevent additional decay in that area.
Veneers- We can correct spaces between teeth, slightly uneven and crooked teeth, and chipped or stained teeth by bonding porcelain veneers to the front of tooth surfaces.
OPALESCENCE BOOST: IN-OFFICE BLEACHING- Teeth whitening is an easy, noninvasive and cost-effective way to make a noticeable improvement to your smile. We offer in-office treatment that includes 2-3 applications in one appointment and 5 Go trays with a tube of sensitivity toothpaste. We also offer custom trays for take home whitening.
Invisalign®- This teeth alignment system is another noninvasive way to achieve smile improvements and improve your oral health along the way. Teeth that are properly aligned and spaced are easier to care for. Find out if Invisalign® is right for you.